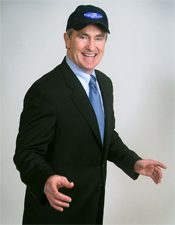 Fastest Growing Telemarketing
& E-Solutions Firm
Want to know more about outsourced solutions? Patrick Evans founded evanSales to introduce success-based, outsourced, telemarketing and e-solutions to the U.S.
evanSales, Inc. is the fastest-growing U.S.-managed, success-based telemarketing and e-solutions firm.
Why Central and South America?
Our managers are based in Wisconsin, Belize, and Bolivia. We specialize in offering Same Time Zone business process outsourcing (BPO) and feature American dialects so the call sounds like it's emanating from your next-door neighbor.
We deliver the cost savings of an outsourced solution and the English or Spanish voices are American.
Patrick Evans' first firm, EVCOR, grew to become one of the largest software integrators in North America and had 22 telemarketing offices.

Patrick sold EVCOR for $60 million.

Inc 500 winner with a growth rate of 1019%

Appearances on CBS This Morning, NBC, ABC, WBEZ, WGN, WYCC, and Fox 32.

Interviewed by The Wall Street Journal, Newsweek, LA Times, and Chicago Tribune.

Spokesman for the nationwide Business Technology Association (BTA).

Helped startup 22 successful businesses.

Bachelor of Science in Biology, minor in Chemistry.

Author of the amazon.com Top 25 Bestselling Training Book, SalesBURST!! (Wiley published in U.S., England, Canada, Australia, China, and now in Indonesia.)
My name is Patrick Evans and I have interacted with English-speaking South Americans for years.
The reason I bring this to your attention is I founded a firm that grew at 1019%, achieved Inc 500 status, and was sold for $60 million. That firm utilized outsourcing. We allowed other firms with lower-cost structures to produce software and integration tools for us. We farmed out telemarketing and were extremely pleased with the efficiency of the callers.
Our firm gravitated towards transformational technologies and the South American call center I chose to do business with had incredibly reliable, cutting-edge technology which offered my firm list security, call recording, and world-class analytics.
I liked the telemarketing firm so much that I began to investigate the possibility of ownership. The Bolivian manager, Joseph, is a U.S. citizen and he and his teams have over 28 years combined experience in the telemarketing/call center industry. Joseph would contact me every other day by phone and email me two spreadsheets every night which detailed our leads, # of calls, etc. I have dealt with a few inefficient vendors in my career and Joseph's firm was not one of them. His firm proved I could trust a nearshore telemarketing firm to produce qualified leads.
evanSales was founded to take advantage of the incredibly low costs for entrepreneurial English-speaking talent in South America. I investigated India, China, and the Philippines and found one major problem with all three of them; they must hire nighttime telemarketers to service daytime America. Question: How many of your friends or business associates work nighttime jobs?" Every person I ask responds, "no one." I'm with you, so why should I base my entire business model on nighttime employees? It just did not make sense to me so I chose to build the absolute best SAME-TIME-ZONE telemarketing firm in the world. It's no longer a secret as you can see by our reference list.
I analyzed each telemarketing team's performance and found they always hit the quotas we set. Why not offer success-based telemarketing to the U.S. marketplace? We could stand out and be unique by embracing performance-based telemarketing.
Please review the following facts if you need to save money, increase efficiency and locate a trusted partner.
U.S. owned and managed telemarketing/call center.

U.S. locally managed teams paid salary + bonus.

Same-Time-Zone daytime telemarketers.

Analytics and personal phone call attention.

American and Canadian English-speaking team members.
Please call me and we can talk or you can simply fill out our "Please Contact Us" form.
While you are visiting our site you can listen to our telemarketers.
Thank you and welcome to evanSales,
Patrick Evans
evanSales, Inc.
Founder and President
Chicago
+1 (630) 803-6511
[email protected]
SKYPE: patevansales
Pricing
evanSales keeps it simple
Telemarketing/Sales Pricing:
$7.90 per hour telemarketing.
$ 11.90 per hour or we can tailor a plan which works for you per hour